Redfleshed apple obtained from Germany. Heavy cropping. Good for cooking but are below average in quality for eating; the apples have a hint of rhubarb in the flavour and (for me at least) are too acidic for comfort. The tree has very pretty crimson blossom, which is normal for this type of apple.
The first fruit picture below shows Malus Geneva on the left, and fruit from one of its seedlings on the far right(click on the thumbnail for the detail). The middle apple is another redfleshed variety.
The tree is healthy and freer from scab than many of the other redfleshed varieties.


FRUIT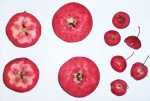 ....


BLOSSOM



....
Left to right:
Blossom from Malus Geneva, Baya Marisa and Leicestershire Sweetings.




compiled by Nigel Deacon / Diversity website