Leicestershire apple, originating in Shackerstone. Also known as Wellington. Large, flattish fruit related to Lane's Prince Albert (q.v.). Pale green becoming yellow; some orange mottling. Was a very popular cooking apple; now superseded by Bramley, but still very popular in private gardens. Scented apple. Pick early October; will keep until April. Raised by Richard Dumelow, a Shackerstone farmer, in late 1700s. Late keeper; sometimes keeps until May.

The entry from HOGG (1884) is shown further down the page.

Pictures (click on small images for detail):

Fruit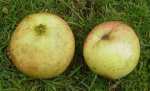 ....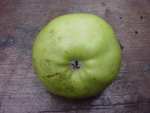 ....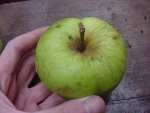 ....
DUMELOW'S SEEDLING
(Dumellar's Crab; Normanton Wonder; Wellington). Fruit, large, roundish, and flattened. Skin, pale yellow, strewed with large russet points, with a tinge of pale red on the side next the sun, which is sometimes almost entirely covered with a bright red cheek. Eye, large and open, with broad, reflexed segments, set in an irregular, uneven, and pretty deep basin. Stamens, basal ; tube, conical or funnel-shaped. Stalk, half an inch long, deeply inserted in a narrow and funnel-shaped cavity, which is lined with russet. Flesh, yellowish white, firm, crisp, brisk, and very juicy, with a slight aromatic flavour. Cells, obovate ; axile or abaxile.

One of the most valuable culinary apples ; it is in use from November to March. The tree is one of the strongest and most vigorous growers, very hardy, and an excellent bearer. The young shoots, which are long and stout, are thickly covered with large greyish white dots, which readily distinguish this variety from almost every other.

This excellent apple was raised by a person of the name of Dumeller (pronounced Dumelor). a farmer at Shakerstone, a village in Leicestershire, six miles from Ashby-de-la-Zouch, and is extensively cultivated in that and the adjoining counties under the name of Dumelow's Crab. It was first introduced to the neighbourhood of London by Mr. Richard Williams, of the Turnham Green Nursery, who received it from Gopsal Hall, the seat of Earl Howe, and presented specimens of the fruit to the Horticultural Society in 1820. It was with him that the name of Wellington Apple originated, and by which it is now generally known in the London markets.
compiled by Nigel Deacon / Diversity website