Actually a New Zealand apple. Similar flavour to Cox and does well in colder sreas. Heavy and regular cropper, and even the windfalls will keep. Will not cross pollinate with Cox. A Cox seedling, raised by Dr. Kidd, Auckland, N.Z. in 1924.

Some detect a hint of parma violets in the flavour - see West Virginia Sweet where this trait is also present. Aromatic becoming somewhat scented as it ages.

I wonder if West Virginia Sweet is the same as Kidd's Orange.

Pictures (click on small images for detail):

Fruit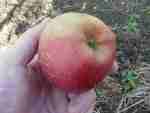 FOR COMPARISON: - West Virginia Sweet - is it the same variety?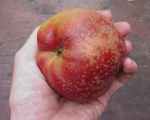 .....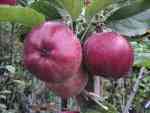 LATER NOTES
This is definitely not Kidd's Orange.... the West Virginia Sweet is a different shape and a better flavour. - ND


compiled by Nigel Deacon / Diversity website