Excellent apple; very very late. Self-fertile; blossom late (the latest of all) so avoids frost. Fruit medium sized, good shape; resistant to scab. Colour pale green to green flushed with red stripes. Season - approx December to March or later. I have seen different shaped variants of this apple.

Pictures (click on small images for detail):

Fruit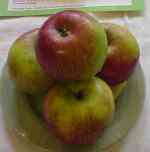 ....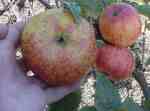 ....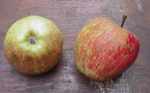 ....

First picture; Church Stretton Apple Day; second picture: Deacon's Nursery, IOW; third picture: nature reserve, Leicester.
compiled by Nigel Deacon / Diversity website