Grower: 'Suttonelms' (England). New information is posted at the TOP of the page.

Moving seedlings outside
The first few seedlings have now been put outside and are growing rapidly. They show a wide range of leaf colours.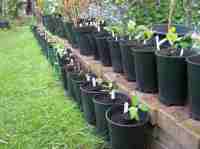 20 May 15

Germinations
About 80 new seedlings have germinated so far. First to appear were the Laxton crosses, followed by the D'arcy Spice. One surprise was the appearance of several Scarlet Surprise x Huonville Crab seedlings which failed to germinate last year and which were left outside for the winter.
25 Apr 15


Apples from hand pollinations, Aug 2014
About 20 apples so far from the planned crosses; about 30 more are on the trees. here's a picture of a few of the early ones: Golden Noble x Pendragon (left) and some of the Laxton crosses.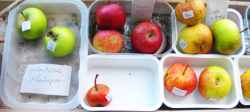 Main Pollinations, Apr-May 2014
Successful pollinations (formation of mature fruit) indicated by bullet points. Unsuccessful ones indicated by a cross.

LAXTON'S FORTUNE

x Airlie Redflesh*

x Mott's Pink

x Pendragon

x Blackflesh

x West Virginia Sweet

x Durrant

x Weirouge

x Pendragon

REDFLESHED AS SEED PARENT
Dubbelman x Durrant

Airlie Redflesh x Durrant

Breunsdorfer x West Virginia Sweet

Breunsdorfer x Dubbelman
George's Red x Durrant

D'ARCY SPICE

x Dubbelman

DEVONSHIRE QUARRENDEN
x Weirouge
x George's Red
x Burford's Redflesh
x Airlie Redflesh

MERTON KNAVE

x George's Red

GOLDEN NOBLE

x Pendragon

TOM PUTT

x Dubbelman

ALLEN'S EVERLASTING

x Dubbelman

Total 75 apples from hand-pollinations for the year.


* aka Hidden Rose

ND / Diversity website