Grower: 'Suttonelms' (England). New information is posted at the TOP of the page.


UPDATE, 10 Aug 2014
Last seedlings potted up today; 300 have been produced this summer, and the most promising 100 have been kept for growing on: about 60 Hansen-type with reddish leaves, 25 Hansen-type with green leaves, and around 25 Etter-type, nearly all of which are green-leaved.


UPDATE, 27 Apr 2014
Interesting leaf colours: selections from our cross Whitwick Pippin x Huonville Crab. The special quality of Whitwick Pippin is its very late ripening; it is at its best in January, and can be picked after New Year. The flavour is slightly tart; close to 'dual-purpose' in flavour. Huonville is quite small but has a good flavour and deep red flesh.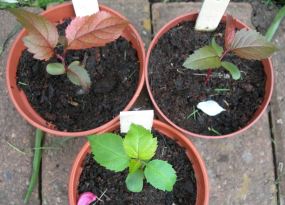 Similar selection from the cross MM106 x Bieinrode. MM106 has strong flavour and good parentage; it is a seedling of Northern Spy. Bieinrode is small and has dwarf growth habit; the fruits are small to average and pink fleshed, with pleasant flavour, and the scionwood is red.




The other successful cross is Laxton's Fortune x Bieinrode. All seedlings are greenleaved. The seeds from the other hand pollinations have not germinated, which is disappointing. However, some of the crosses were quite wide, and the seeds may not be viable.
There is also a large number of open-pollinated seedlings, both Etter and Hansen types, to sort through.


UPDATE, 12 Mar 2014
2013 crosses: a first picture. A wide range of hand-pollinated and open-pollinated seedlings has been produced; around sixty so far, with more germinating each day. Huonville crab crosses have not germinated very well; nor have the Scarlet Surprise seeds, but most of the rest look OK.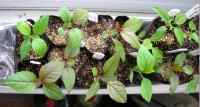 UPDATE, 12 Mar 2014
2013 crosses: These are starting to germinate. The pips have been in the fridge all winter; six weeks ago they were put in damp vermiculite and back into the fridge to build up the glucose levels - they are now out in the light and a few are germinating each day. Here are two pips from the cross MM106 x Bieinrode. Even at this early stage some differences between seedlings are apparent; the one on the right has a bright red shoot. Sorry for the blurry picture; I don't have a close-up lens.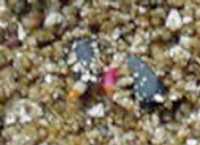 2013 CROSSES - SUMMARY, 10 Mar 2014
2013 was been a much better year for pollinating; several crosses were successful. I was hoping for the Breunsdorfer crosses to work but unfortunately the fruitlets dropped off in June; I will have another try next year. On the plus side, some open-pollinated Breunsdorfer pips sown a year ago have suddenly started to germinate; 7 out of 12 so far in about 3 weeks. Most are red-leaved.


UPDATE, 30 Oct 2013
2013 crosses:
More hand-pollinated apples: (clockwise starting top left): Laxton x Bieinrode, Scarlet Surprise x Huonville Crab, Laxton x Bieinrode again, and Wyken Pippin x Huonville Crab.

Second picture: Ribston x Bieinrode and Durrant's Apple x an un-named redfleshed apple.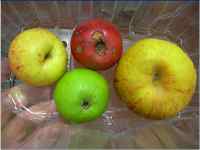 ...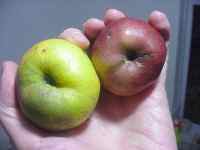 UPDATE, 8 Jul 2013
2013 crosses:
One of our recent crosses, Laxton's Fortune x Bieinrode. The right hand apple has been pollinated using redfleshed Bieinrode pollen. It has no calyx since this is removed during the process. The other one has been pollinated in the normal way so its seeds will be of no interest.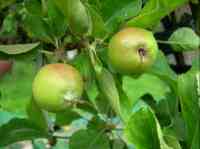 ....


UPDATE, 28 May 2013
Successful pollinations (fruitlets) indicated by bullet points.

2013 Pollinations:
Hall's Pink x Huonville Crab
Burford Yellow x Huonville Crab
Laxton's Fortune x Huonville Crab

MM106 x Huonville Crab
Breunsdorfer x Huonville Crab
Langton Nonesuch x Huonville Crab

Whitwick Pippin x Huonville Crab .......GERMINATED
Mere Pippin x Huonville Crab

Scarlet Surprise x Huonville Crab

Wyken Pippin x Huonville Crab
Ribston(T) x Huonville Crab

MM106 x Burford's Redflesh
Mere Pippin x Burford's Redflesh
Langton Nonesuch x Burford's Redflesh
Laxton's Fortune x Burford's Redflesh


Laxton's Fortune x Bieinrode ..............GERMINATED

MM106 x Bieinrode ...........................GERMINATED

Ribston(T) x Bieinrode ........................GERMINATED
Blackjack x Bieinrode

Bumble Bee Lane apple x Bieinrode
Witney Deerpark Apple x Bieinrode

May Queen x Bieinrode
Chapman's Colossus x Bieinrode
Metton Roy x Bieinrode
Mere Pippin x Bieinrode

ND / Diversity website