Grower: 'Suttonelms' (England). New information is posted at the TOP of the page.


UPDATE, 13 Jul 2013
Three weeks later and the seedlings are growing quite rapidly. All of the pots are exactly the same size, so you can judge the relative size of the plants from that. The seedling in the last picture is the darkest and most vigorous; nearly twice the size of the others. Click on the thumbnail for the detail.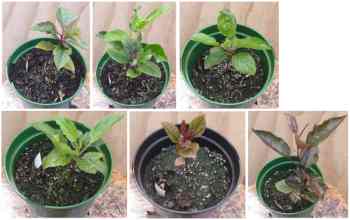 Left to right; back row followed by front row:
1.Breunsdorfer, open pollinated, bronze leaves.
2.Pink Pearl, op, green leaves.
3.Langton Nonesuch x Huonville Crab, seedling 1.
4.Langton Nonesuch x Huonville Crab, seedling 2.
5.Burford Sour x George's Red.
6.French redfleshed, open pollinated.




UPDATE, 19 Jun 2013
Germination of pips from 2012 has been very poor indeed; about 20%; perhaps because of the bad weather when the pips were forming. However there are some interesting seedlings; here are the best so far: look at the amazing leaf colours.




1:Breunsdorfer (East Germany), open pollinated: unusual red leaved seedling.
2:Privately sourced redfleshed apple from France, open pollinated.
3:Burford Sour (very ancient domestic apple x crab) pollinated with George's Red (Essex).
4:Langton's Nonesuch (Leicestershire) x Huonville Crab (Tasmania)


UPDATE, 28 May 2013
2012 crosses: Some 2012 seeds still to germinate. Norfolk Blackjack x Burford's Redflesh has worked; seedlings are green.

It is time to move some of the others into bigger pots. Note the interesting leaf colours. Click the thumbnails for the detail.

1. Langton's Nonesuch x Huonville Crab. An unusual red sheen to the leaves.
2. Breunsdorfer open-pollinated; much redder leaf than its parent or its usual seedlings (parent leaf is green/bronze; seedlings usually green)
3. Pink Pearl, open-pollinated. Pink pearl was Etter's commercial release in the 1940's.
4. A very deep-red seedling whose parent appears to be a good pollinator.
5. Langton's Nonesuch x Huonville Crab. Colour as in (1) above.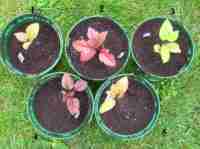 2012 CROSSES
This was an appalling year for weather whilst the flowers were opening, and only a few pollinations worked.


UPDATE, 8 May 2013
2012 crosses: Something unexpected - last year I did a lot of pollenations with Scarlet Surprise pollen and had no success, so assumed it was triploid. On sorting through my last stored apples from 2012, I have found two hand-pollinated Croft Late apples, and on looking through my records, they were pollinated with Scarlet Surprise.

I consulted a biologist who told me that a very tiny fraction of pollinations with triploid pollen would be viable, but that the resulting plants, although they might produce apples, would be unlikely to set seeds. Some book work is necessary on my part. However, the simplest explanation would be that Scarlet Surprise is not triploid.


UPDATE, 6 Apr 2013
2012 crosses: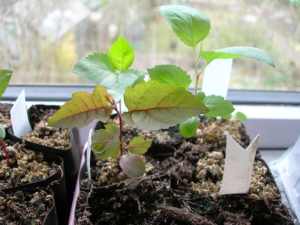 The green-leaved seedlings in the background are open-pollinated Pink Pearl, so far showing no sign of redfleshed parentage. Pink Pearl itself has green leaves. The red-leaved plant in the foreground is a Breunsdorf open-pollinated seedling. These are usually green-leaved so this one is unusual.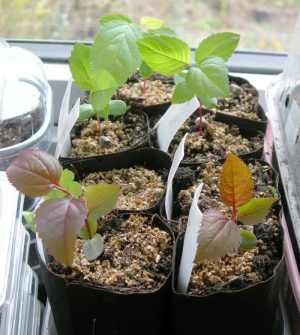 In the background with green leaves are seedlings of Langton's Nonesuch x Huonville Crab; so far with no sign of redfleshed parentage. In the foreground is Burford Sour, a late striped crab/domestic apple cross with a sour-astringent, very strong flavour, crossed with George's Red, a pink-fleshed apple with a good flavour reasonably similar to that of Devonshire Quarrenden. Usually George's Red produces green leaved seedlings, so this one is unusual.


UPDATE, 20 Jan 2013
2012 crosses: Seed extraction from the hand pollinated apples gave very few seeds indeed; however we have a few Langton's Nonesuch x Huonville Crab, which must be a first, anywhere. It will be interesting to see if they grow.

Readers may remember that Langton's Nonesuch originated in Church Langton, Leicestershire, became extinct in England in the 1920s, but a tree was rediscovered in a garden in Germany and brought back to England by Leicestershire Heritage Apples Project (us) in 2008.





UPDATE, 25 Aug 2012
Other observations on the 2012 crosses
1.Scarlet Surprise produced no seedlings at all when used as a pollinator. Open pollinated seeds from Scarlet Surprise showed a poor germination rate and the seedlings were very weak and unhealthy. This suggests Scarlet Surprise may be triploid and probably best avoided in future work.
2.Purple radish seeds, open pollinated, produced mainly green leaved seedlings but a few red leaved. The seedlings were mainly healthy.
3.Bieinrode open pollinated produced about 40% red leaved seedlings, mainly healthy.
4.Pink Pearmain seedlings, open pollinated, produced green leaved seedlings only. They were susceptible to scab / brown patches on leaves; most were of low vigour.
5.All Wyken Pippin x Bieinrode seedlings were healthy; roughly 50:50 red leaved : green leaved.
6.Burford Redflesh is a viable pollinator but it is poor.
7.George's Red was again found to be a good pollinator but the seedlings show little sign of pigmentation.
8.Bieinrode is a good pollinator and will be worth using in future work. However it is small so it is likely to reduce fruit size in the resulting trees.


UPDATE, 12 May 2012
2012 crosses: Very little sign of any 'take' with the Scarlet Surprise pollen. I wonder if it's triploid. One or two of the Burford's Redflesh crosses look as if they have worked.


UPDATE, 26 Apr 2012 and 12 May 2012
2012 crosses: mainly darker coloured(*) redfleshed varieties crossed with a range of English apples:

Laxton's Fortune x Scarlet Surprise* UPDATE - NO FRUIT SET
Laxton's Fortune x Burford's Redflesh* UPDATE - NO FRUIT SET
Devonshire Quarrenden x Scarlet Surprise* UPDATE - NO FRUIT SET
Devonshire Quarrenden x Burford's Redflesh* UPDATE - NO FRUIT SET

Burford Sour (a domestic/crab hybrid, judging by its size and flavour) x George's Red - successful
Croft Cider x Scarlet Surprise* UPDATE - NO FRUIT SET
Claygate Pearmain (triploid) x Scarlet Surprise* UPDATE - NO FRUIT SET
Huonville Crab* x Scarlet Surprise* (both red fleshed) UPDATE - NO FRUIT SET
Golden Noble x Burford's Redflesh* UPDATE - NO FRUIT SET
Merton Knave x Burford's Redflesh* UPDATE - NO FRUIT SET

Langton's Nonesuch x Huonville Crab* - successful
West Virginia Sweet x Scarlet Surprise* UPDATE - NO FRUIT SET
Pink Pearmain x Scarlet Surprise* UPDATE - NO FRUIT SET

Blackjack x Burford's Redflesh* - successful

comment - the appalling weather during the pollination period has affected fruit set for the hand pollinations. Then most of the hand pollinated apples fell off during the 'June Drop'.

Bullet points indicate the crosses where seed was obtained.

ND / Diversity website