MALUS BIEINRODE
A small redfleshed eating apple found near Bieinrode, West Germany. It is slow growing and the fruit quite small (golf ball size) but of good quality.

The apples do not brown on cutting. Suitable for growing in containers, and a good decorative tree. Blossom pink though a little less bright than Weirouge, Breunsdorfer, etc.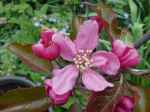 .....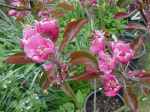 .....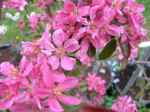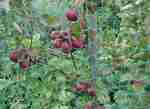 .....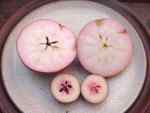 .....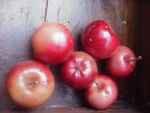 .....



The cortex wood is deeply pigmented pink. The leaves are red - bronze. I am using this as a pollinator in some Bieinrode / English apple crosses.


Tasting notes 2011 - flavour rather tart, but mellowed to 'fairly good' after about three weeks off the tree. Concentrated flavour, 'meaty' rather than fruity, fairly sweet; ok in fruit salads. The red pigmentation is very pale this year. The second picture above shows Breunsdorfer (large apple, top) and Bieinrode (small apple, underneath).


Vitamin C analysis gave 10.1 mg per 100g fruit in 2011.






compiled by Nigel Deacon / Diversity website