MALUS BIEINRODE
A small redfleshed eating apple found near Bieinrode, West Germany. It is slow growing and the fruit quite small (golf ball size) but of medium dessert quality; an interesting sweet-sour taste.

The apples do not brown on cutting. Suitable for growing in containers, and a good decorative tree. Blossom pink though a little less bright than Weirouge, Breunsdorfer, etc.

Unsuitable for drying or cooking; too small.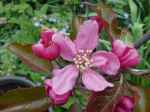 .....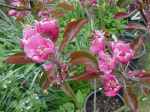 .....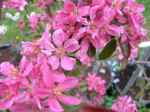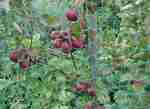 .....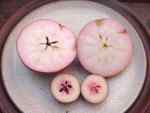 .....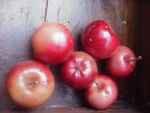 .....



The cortex wood is deeply pigmented pink. The leaves are red - bronze. I am using this as a pollinator in some Bieinrode / English apple crosses.


Tasting notes 2011 - flavour rather tart, but mellowed to 'fairly good' after about three weeks off the tree. Concentrated flavour, 'meaty' rather than fruity, fairly sweet; ok in fruit salads. The red pigmentation is very pale this year. The second picture above shows Breunsdorfer (large apple, top) and Bieinrode (small apple, underneath).


Vitamin C analysis gave 10.1 mg per 100g fruit in 2011.

2018 UPDATE
A much sunnier year; the apples have darker flesh, the Brix level (sugar) is higher and the flavour is better. Several people voted this the best-flavoured apple (of 12 varieties) at the Donisthorpe apple day.






compiled by Nigel Deacon / Diversity website