Arnold Hill was a writer and playwright in addition to earning a living as a businessman. He wrote short stories, several of which appeared in anthologies. He had several stage plays produced, including one in London in 1953 and another at the Abbey Theatre in Dublin in 1965.

He also wrote numerous radio plays and had approximately 50 broadcasts of his own plays and radio adaptations of other writers' work on the BBC and overseas in the 1950s and 1960s.

So far we have no plays by Arnold Hill. If anyone has a recording and would like to share it, please get in touch.


NOTES / REVIEWS ON SOME OF THE PLAYS


A MARRIAGE OF INCONVENIENCE....1969
Crawfordsburn businessman Arnold Hill, who took up writing as a relaxation, has had another success with his play "A Marriage of Inconvenience". It is to be broadcast on Radio 2 on Wed. 2 April.

English David and Irish Sarah do not make an ideal couple, but a threatened visit from Sarah's parents forces them to continue in the role of love-birds. As David, Martin Jarvis is more familiar to television viewers as Iren's son John in "The Forsyte Saga". Heather Gibson plays Sarah. The cast is completed by Harold Goldblatt, Irene Bingham and Larry McCoubrey.

Mr. Hill has just finished writing a novel. (........taken from local newspaper article, Apr. 1969)

Running time: 60 minutes. (Diversity website listing: Midweek Theatre, A Marriage of Inconvenience (45) Arnold Hill R2 2.4.1969/2015 Martin Jarvis/Heather Gibson )


THE LIFE OF THE PARTY....1962(?)
Notes from RT: When Mercy Caldwell receives a cheque for her first published story she proposes to use the money in settling overdue accounts, but her brother and sister have more ambitious ideas. They long to recall the affluent years with a dinner party for old friends. Is the party a success? Only in a manner of speaking.....

Cast:
Caroline Medway.....Gwendolyn Stewart
Mercy Caldwell.....Irene Bingham
Hector Caldwell.....James Boyce
Tubby Haslam.....Harold Goldblatt
Miss Dowdy.....Doreen Hepburn
Jane Semple.....Annette Payan
Harold Semple.....Hugh Montgomery
Producer.....Ronald Mason
Remarks by Ronald Mason, producer:

The author of tonight's play, "The Life of the Party", is a company director living in Crawfordsburn with his wife and eighteen-year-old son. Arnold Hill's first play was broadcast from Northern ireland fifteen years ago. Since then he has had many of his plays and adaptations broadcast at home and overseas.

Despite a very considerable output Mr. Hill regards writing only as an absorbing hobby. 'The financial rewards of writing' he claims 'are so inadequate that without a private income the professional wroter's years would be lean years indeed.'

Mr. Hill has tried his hand at many kinds of writing, including the novel and the stage play, but he finds the scope that radio gives most satisfying, 'not only for imaginative writing but for imaginative listening'. He has a feeling that many people are turning again from viewing to listening, or at least using the media of television and radio more selectively.

I asked Arnold Hill about his attitude to the 'new wave' of playwrights like Pinter and Wesker. He found in their work a relief from the stereotyped plot but feared that the interest gained there could be sacrificed by a too slavish imitation of natural speech, which became, as he put it, 'thin, repetitive and boring'.

Tonight's play, which I am producing, is about an aspirant writer who after twenty years of failure has had her first short story published.

Ronald Mason




Clip from local newspaper.....Arnold Hill's latest play "The Life of the Party" is to be produced on Thursday January 24. After twenty years, an aspiring writer has had her first short story published. What to do with the publisher's cheque and the background of the lean years that led up to this meagre success form the subject matter of the work.

The part of the writer is played by Irene Bingham, and others taking part include James Boyce, Harold Goldblatt and Doreen Hepburn.




Local newspaper, review...... ... A bitter-sweet mixture was "The Life of the Party", Arnold Hill's smoothly articulated play on the Northern ireland Home Service last night.

Hill gave his characters some stylish witticisms, and a timeless, rootless setting; the debt-ridden, shabby world of complacent gentility.

There was heartbreak for a tremulous spinster (played with fine judgement by Irene Bingham) when, after ten years, she met again the hearty, but weak, man (Harold Goldblatt) whom she had long loved. But then the author seemed to relent and tacked on a sentimental ending.

He also offered some nicely observed comedy in a scene where a tipsy seamstress (Doreen Hepburn) did not realise that she had outstayed her welcome at a dinner party.

Gwendolen Stewart was the spinster's sonorously acid sister and James Boyce herbookish brother. Ronald Mason contrived a near production for this civilised entertainment.



UNCLE SILAS....1953
Sheridan LeFanu, adapted by Arnold Hill.
From Cocteau it is a far journey to LeFanu and the melodrama of 'Uncle Silas' (Home) and the ordeal of Maud Ruthyn. 'Even now, when she thinks about it, it makes her shudder and grow sick with fear'. No wonder. H. Arnold Hill (dramatist) and Mary Hope Allen (producer) created the appropriate feeling of cululative terror. With LeFanu and some of his contemporaries one used to hesitate before turning a page: the feeling came back on Sunday thanks to Marjorie Westbury, Gladys Spencer (these governesses!) and Carleton Hobbs, who was Uncle Silas: hardly, one would say, a Derby bright. (.....taken from unidentified newspaper article)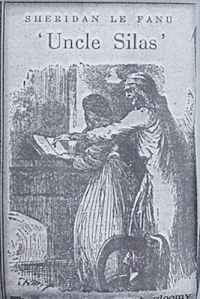 The scene is a great gloomy house in Derbyshire where a wicked uncle tries to win a legacy from his orphaned neice.

CAST:
Marjorie Westbury, Gladys Spencer, Olwen Brookes, Michael O'Halloran, Wyndham Milligan, Roger Snowdon, Norman Mitchell, John Turnbull, Jean Webster Brough, Raf de la Torre, Patricia Hayes, Reginald Hearne, Carleton Hobbs, June Spencer, Richard George, Audrey Mendes, John Casabon. Producer: Mary Hope Allen.


THE WAGES OF VIRTUE....1951
A young Bangor man, Mr. Arnold Hill, gives an Ulster interest to this week's Saturday Night Theatre play, to be broadcast from London. He adapted the piece, Robert Morley's comedy "Short Story", for radio. Mr. Hill has written several radio plays himself, several of them being broadcast from Northern Ireland. He is also known as a writer of short stories. (........taken from local newspaper article, 1951)

(Diversity website listing, Saturday Night Theatre:)"Short Story","Robert Morley/H. Arnold Hill","Home","27.1.1951/2135","Irene Browne/Ronald Frankau/Marie Lohr". repeated in the Afternoon Theatre slot.


SENSATION IN SANDYFORD....1950
Arnold Hill has made a name for himself in Northern Ireland with such plpays as "Atonement", "Pilgrimage for Hattie", and "The Stranger on the Shore". As a rule he shows a preference for unusual subjects, and his new comedy, "Sensation in Sandyford", which James Mageean will be producing at 8.25pm on Friday (16th June) is no exception.

The action centres around a burglary in the Ulster village of Sandyford and the extraordinary repercussions on the lives of some of Sandyford's most prominent inhabitants. (........taken from local newspaper article, 1951)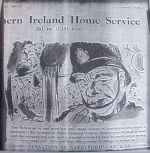 Details from RT: 'A comedy for broadcasting';

Cast:
Lucy Pringle....Norah Kirkwood
Caroline Pringle..... Hilda Johnston
Clara Beckett.... Nita Hardie
Andrew Beckett.... James Stewart
The Rev. Julian Owens-Otway, M.A......A.Musgrave Horner
A newspaper reporter.....R.J.McDevitte
Mrs. Finch.....Audrey Bell
James Mcneely.....Charles Owens
Narrator.....Alfred Arnold

compiled by Nigel Deacon, Aug 2010, from information supplied by the writer's son, Alan Hill, living in Canada.