There are some apple trees which grow with very short side breaks (no branches). This is a useful property for an apple tree to have if space is restricted. Originally called 'Pole Trees', six cultivars were produced by East Malling Research Station some time ago, from crossing the original sport (I think this was from Wyken Pippin) with varieties from E.M. The six which were made available commercially were:

BOLERO - an early green apple with a golden flush, ready mid-Sept, pink flowers.

CHARLOTTE - a cooking apple, very large. It is green with a touch of red. Ready late Sept - mid Oct. Stores until Christmas or sometimes later. Pink blossom.

FLAMENCO - Descended from Cox. This apple is ready in mid October and stores until after Christmas. The apples are dark red, with crisp, rather acidic white flesh.

MAYPOLE - a crab apple. It flowers in early May, with red blossom. The leaves are reddish-green and the fruit golf-ball sized and purple, with pink flesh.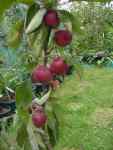 ......

POLKA - bright red apples of good flavour. Ready at end of September.

WALTZ - Sweet, good flavoured red & green apple, ready in October. Large white blossoms.

The commercial releases above are just six of a fairly large number of columnar trees known to exist. They will not be available at your local garden centre, but are stocked by Deacon's Nursery, Godshill, IOW, and a few other specialist nurseries.



The pictures below show two similar trees growing in pots, grafted onto MM106. The white blossomed tree is Mere Pippin. This is a very late eater found some years ago in a hedgerow by ND in Mere, Wiltshire.

The other tree, with red blossom, is a columnar seedling of Malus Geneva, raised in Germany. Click on the thumbnail pictures for the detail. I've come across another one - "Sam Bell", found in Leicestershire, which forms few side branches; perhaps that too would make a columnar tree.

Fruit pictures later in the season, maybe....





......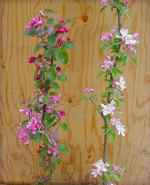 ......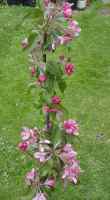 ......



FRUIT.....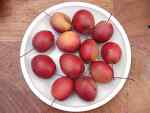 ......

Malus Geneva Seedling.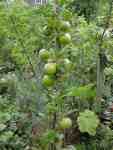 ......

Mere Pippin, not quite ripe. Sep 2010.




compiled by Nigel Deacon / Diversity website / 2010