Collecting scion wood
To produce a young tree of an ancient or newly-discovered variety, you need a cutting. This is known as a 'scion'. It is joined to a rootstock by a process called 'grafting', after which it grows to form a new tree.

Scion wood is generally collected from late January until early March from interesting - looking trees in the remnants of old orchards, private gardens, ancient hedgerows, and on old parish boundaries.

There are also unusual seedlings to be found at the sides of roads and railways, along old railway tracks, and in woodland. Apples cross with each other readily, and new varieties are appearing all the time.

Ideally a scion or cutting consists of last year's wood, about the thickness of a pencil, pointing upwards, ready to grow in the spring. 'Upwards' is important; it means that the scion, even if on an old branch, is youthful and vigorous. Old, drooping wood cannot be grafted successfully.

Often it is difficult to get good scion wood from an old tree because it contains no new growth at all. One solution is to cut off a branch, which in a year's time should have produced enough young shoots for grafting to take place.
Grafting
Apple scions are grafted onto a rootstock in February, March or April. The scion wood has to be dormant, and the rootstock about to begin growing. The cutting is carefully joined to the rootstock and starts to grow about a month later.

The rootstock provides the roots, and the cutting supplies the branches. All commercial apple trees are produced in this way.

Here are some trees about 6 weeks after grafting, followed by some two-year-old trees in a field owned by one of our first apple guardians in South Leicestershire.
Young Trees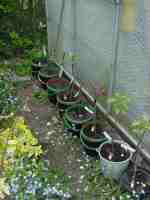 .....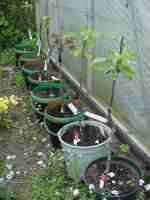 .....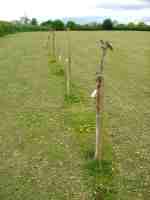 .....


A year later: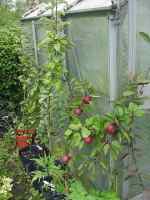 .....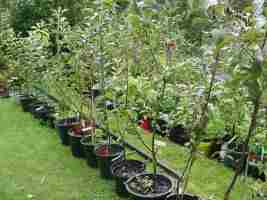 .....
Nigel Deacon