Another interesting apple chimera photograph, on a Gravenstein tree, sent by Bill from Vancouver Island: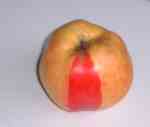 - and he adds the following comment: .....neither color area is "correct" for the variety and didn't match other apples from the tree, which are normal yellow grav coloration ....

Here's another, which appeared in the papers in September 2009, which an anonymous person emailed to me (many thanks), and a link to another picture of the same apple.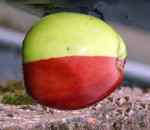 Nigel Deacon / Diversity website.