Apple trees, mainly seedlings of domestic apples, are found along the sides of many ancient roads. Most are unexceptional, but a few are good and worth preserving.

Here are pictures of apples found along the Fosse Way and elsewhere.

This page will be expanded as more pictures become available.




.....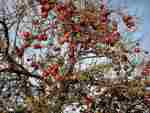 Near Burford, Oxon. 4 Jan 05. "Burford Red". Good flavoured very late dessert apple; pale green flesh; scented.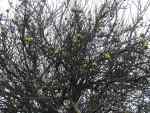 .....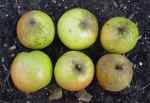 Near Burford, Oxon. 30 Dec 07. "Burford Yellow". Rather similar to MM106 in shape and size; a little drier and later. OK as crisp New year eating apple; not too acidic. Tree photographed in heavy rain.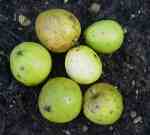 .....

Found near Burford, Oxon. 30 Dec 07. Very sour, strong flavoured cooker; almost like a cider apple. "Burford Sour".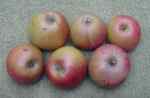 Witney: deerpark apple. Quite late; sometimes on tree in late Dec but usually ready early Nov. A little like Ribston but no russeting and smaller.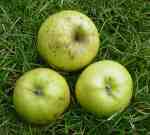 Witney: another apple near the old deer park. Six weeks later than the other apple; flavour fairly bland but firm and crisp at end-Dec.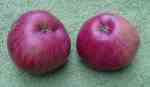 Near Blackwell, Fosse Way. Similar to Claygate Permaine. Good flavour; crisp, ready end-Oct.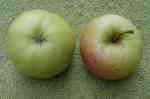 Near Blackwell, Fosse Way. Similar to Sturmer but earlier; ready end-Oct. Scented. Quite acidic but less so than Bramley; good crisp eater for Nov-Dec. Seems to be a heavy cropper. Yellow by end-Dec but still firm and good flavour.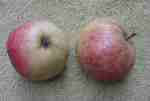 Near Tredington, Fosse Way. Good firm, crisp eater of average flavour. Unscented; keeps well; ready end-Oct; stores well until end- Dec. Deep red at top of tree.



.....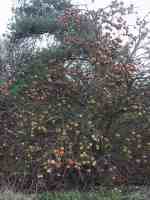 .....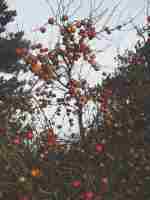 "Highcross apple". Very late eating apple which stays on the tree until late Dec or early Jan. Similar to Annie Elizabeth. Photo 29 Dec 07. Third picture: same tree, later, in the winter sun.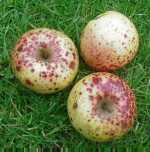 Mere, near Zeals. "Mere Pippin". Subacid flavour; very late. Keeps well into the Spring.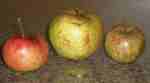 Kegworth, Leics. Photo from Simon Chapman. Mid-Oct. No details on eating quality.
compiled by Nigel Deacon / Diversity website