I have a cider apple, found growing near to an old farmhouse, and wonder if it can be identified. It is a sharp or bittersharp, fairly high tannin, very acidic until fully ripe, just about edible, and quite highly scented.
All the apples on the tree are yellow, and every one has a characteristic russeting around the stalk, rather like the apple "Brown Snout" - but at the other end of the fruit. The apples are small; all are between one and a quarter to two and a quarter inches across, most are just under two inches, round or slightly flattened; some with ribbing. I've included a big Bramley in the picture for scale. The apples are inclined to scab.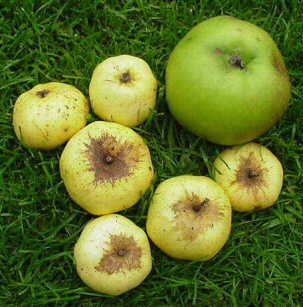 Can anyone help me identify this, or suggest to what it might be related? It makes a good, scented cider on its own. Until identified I'm calling it CROFT SHARP, which is where I found it.
...and another picture, actual size:

......email me if you can help.
UPDATE - I recently visited Brogdale and looked at their cider apple exhibition. The nearest I could find was the apple FAIR MAID OF TAUNTON - a sharp cider apple, similar russeting around the stalk and the same size. There were differences - a slightly less ribbed shape and skin which was a little more shiny. A picture is shown below. Nevertheless it looks very close.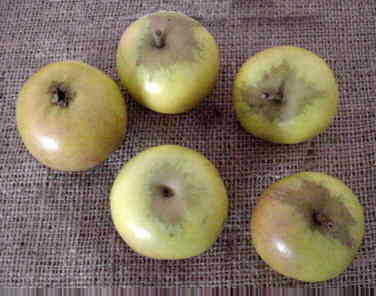 Emma-Jane Lamont at Brogdale found the following reference for me, in "A Somerset Pomona" by Liz Copas, 2001, Dovecote Press Ltd., Stanbridge, Wimborne, Dorset BH21 4JD:
Fair Maid of Taunton: Mid season Mild Sharp
Synonyms: Moonshines or Moonlight; Greasy Butcher
This variety is described by Hogg in the 19th century as a dessert apple, but not of the first quality. It was recorded in the National Apple Register in 1831. Although it was only infrequently sent in for cider making trials, it made an agreeable though rather characterless cider. Its juice is quite high in acid and rather "Devon Type" - which means a flat, mild sharp. Although it probably hails from Taunton or that area, it is still found in orchards around Glastonbury. where it is usually called Moonshines. Trees are large. tall and spreading. Flowering time is early May. It is rather susceptible to scab.
Other characteristics: Oblate or conical; ribbed on body, sometimes rather irregular. Pale green or whitish turning butter yellow. Dry, greasy when ripe, russet sometimes heavy in stem cavity and spreading netted over the cheek. Lenticels sometimes corky with a pale surround on immature fruit; often with a red or brown dot when ripe. Slight hint of red on sunny side. Sharp with some astringency; whitish or yellowish flesh. Tender, juicy, chewy. Juice-SG 1047, acidity .55%, tannin .19%. Cider- moderately sweet with some acidity. Makes a cider with a fairly agreeable aroma and flavour but lacking in character.



Mike H, Glos, adds:
.....I have in our garden two cider apple trees which look remarkably similar to yours: mostly plain yellow, dull skin, some small speckling or small black spots, a few apples slightly "sunburnt" at the top of the tree. The flesh is very dry, almost inedible, but if stored over winter they soften and they wrinkle up so they can be eaten well into the new year. These are also an unknown variety, though my grandfatherplanted them specifically for cider.

They are a very late apple which falls Oct / Nov after the leaves have fallen. I usually wait until they're all on the ground before collecting around 16 to 20 fertilser bags full - this has been as late as early December in some years. When pressed they usually produce about 35 gallons of a very dry clear cider which is lighter in colour than in your picture but very palateable.

When getting old the flavour can be brought back by heating (either by an old poker or placing near the fire). I'm not up on the technical jargon, but the alcohol percentage must be quite high.

Whatever the variety it was purchased specifically for cider in the late 1940s and it needs no blending.

Mike H, South Glos.


ND adds: sounds interesting, and very similar to the Croft apple.

Mark Shirley found that it took about 27lb of the Croft apples to produce a gallon of cider from pure juice plus sugar.

If we assume 50lbs of apple in each of your fertilser bags, this is 800-1000 lbs apples for 35 gallons of cider: 23lb to 28lb per gallon - very close to Mark's figure.

But I still think the Croft apple is a stray seedling.
Nigel Deacon / Diversity website