=====================================

NEWTON AND HIS APPLES
A short piece appeared in the DT on 15 Nov, saying that seeds from the Isaac Newton apple tree at Woolsthorpe are to be spread around the country.
Pips will be grown to form seedlings which will be planted at thirty science centres and museums, forming a country-wide 'virtual orchard' of descendants of Newton's tree (the variety of which, I think, is Flower of Kent). Apple seeds do not breed true, so a large spread of different types of apple will be formed. It will be interesting to see what happens and it will be good if someone collates the information and photographs the new varieties.
As visitors to Woolsthorpe Manor will know, the original tree dating from the 1660s, though a bit battered, is still alive and fruiting quite well. It blew down in 1820, but surprisingly it re-grew from the root, and the tree which formed is what is there today.
16 Nov 16

APPLE SAWFLY - TREATMENT
A brief internet search reveals that a suggested treatment for sawfly (which has just appeared online) is delta-methrin. This is available in garden centres, manufactured by Bayer. By coincidence, this is what I had decided to try next year, after its success in treating leaf midge on young seedlings during the summer. Losses with early-blossoming varieties this year were high again; later-blossomers were not so bad.
16 Nov 16

APPLE SAWFLY
Apple sawfly is a significant problem for many apple growers in Leicestershire this year. We have been affected quite severely; symptoms are apples rotting on the tree, holes appearing in the sides of apples, scar tissue on the skin, and apples rotting in concentric rings. There is no good control (yet) for this pest, and it seems to have overtaken codling moth as the main cause of lost fruit.
Apples which are worst affected seem to be the early-blossomers.
SYMPTOMS
Apples rot and turn brown very rapidly on a sawfly-infected tree. The rot is caused by fungal organisms Sclerotinia fructigena and Sclerotinia laxa, especially around a wound or hole. The first infection of the fruit occurs when wind-blown or insect-borne conidia (spores) land on a wound or puncture such as those caused by birds, caterpillars, grubs, insects or hail. Mycelium spreads rapidly through the tissues and into neighbouring healthy fruit, including those without punctures. A picture of brown rot triggered by apple sawfly is shown below. Notice how the sawfly exit holes have become infected and are starting to decay. Occasionally the fungus enters the apple and decay starts at the centre of the fruit, working outwards. (Click on the thumbnail for more detail).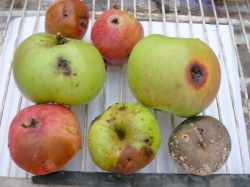 1 Oct 16

CHIMERA
Interesting photograph of a chimera (I think it's Royal Gala) sent to me by Sarah Johnston: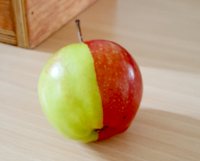 FRUIT SET
Well, it's two months later and most apple trees have a good set. The weather improved and the June drop was small.
28 Jun 16

BLOSSOM
It's the apple / pear blossom season again; a little later than last year, and a lot later than predicted a few weeks ago. So far, the weather is diabolical for pollinations; no fruit set so far, with recent cold nights and sleet during the day; fruit buds for many varieties remain tight. We hope for some improvement in the weather.
Varieties below (l to r): a giant Asian cooking pear, Mott's Pink and Webster Pinkflesh (Pinkmeat).


APPLE DATA ONLINE
A database of orchard fruit cultivars has just gone online. It is part of a set of new resources to help preserve ancient orchards and encourage their traditional management. The online list includes other fruit too, and has been drawn up by the People's Trust for Endandered Species (PTES) with the National Fruit Collection in Kent. The web address is www.ptes.org/orchards.
3 Apr 16

GLYPHOSATE
The RHS magazine reports (Jan issue, which I've only just seen) that the European Food Safety Agency has assessed glyphosate (which includes Roundup) and says that it is unlikely to pose a cancer threat to humans. Bear this in mind if you are tempted to sign the anti-glyphosate petition which is currently doing the rounds on Social Media.
3 Apr 16

CHRISTMAS PIPPIN
I have encountered an unusually good-flavoured late dessert apple, Christmas Pippin. These still have good flavour and texture in late March. The taste is mild and sweet with low acidity, with a hint of banana as it ages. Click on the thumbnail for a better picture.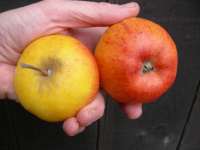 28 Mar 16

UPDATE ON BLOSSOM
Flowering plum mentioned below still at 90% blossom on 26 Mar; it has been in flower for about six weeks; I have not seen this before. Apricot plum still at 90% blossom on 28 Mar so has been out about three weeks. However this indicates that apple blossom, although early, will probably not be unusually early. I estimate Webster Pinkmeat will be at first blossom around 12-15 Apr and Bramley at about 20 Apr.
28 Mar 16

PROBABLE BLOSSOM DATES
It seems likely that this year will have early apple blossom. My flowering plum, which I use as a 'marker' for blossom dates, was in full (90%) bloom this year on 20 Feb, compared with 20 Mar last year, ie. 4 weeks early. My apricot plum dates were 3 Apr (2015) and 4 Mar (2016); ie about 4 weeks early this year.
First apple blossom last year in this part of South Leicestershire was 19 Apr (Webster Pinkmeat) with Bramley at 27 Apr. According to the plum dates I guess we may have some apple blossom around 10-12 Apr with Bramley at around 20 Apr, but much depends on what happens to the weather over the next fortnight. NOTE ADDED LATER - Bramley was 5 May....
7 Mar 16

TRIPLOID APPLES AND POLLINATION
This note appeared on the 2015 page but I'm putting it here again because it's important.

Brogdale has had its apple tested to see which ones are triploid (51 chromosomes) and which are diploid (34 chromosomes).

What follows is not a complete list of triploids, but it includes the common and a few of the not-so-common triploids likely to be found in gardens in England.

If you have one of these, it will usually improve the crop if a pollinator is present.

Some of the triploids below, e.g. Bramley, will set a reasonable crop on their own. The effectiveness of triploid pollens on some triploid and diploid trees is shown here and here .

Another interesting observation: the apple variety 'Cobra', was bred by Hugh Ermen using Bramley pollen to pollinate a Cox; in fact Hugh Ermen made the observation many years ago that Bramley can be quite a good pollinator for Cox.

There are several short pieces on pollination listed on the articles page.


THE VARIETIES
Bulmer's Norman
Belle de Boskoop
Bramley & Crimson Bramley
Bloody Butcher
Beauty of Kent
Blenheim Orange
Claygate Pearmain
Crispin
Catshead
Doctor Hogg
Gravenstein
Isaac Newton's Tree
Jonagold
Jupiter
Morgan Sweet (cider)
Norfolk Beefing
Ribston
Reinette du Canada
Reinette Gris du Canada
Suntan
Tom Putt
Warner's King
Winesap
Winter Pearmain

1 Jan 2014