This is a tree grafted from scions sent by a person in Stockholm who had it identified as 'Aldenham Purple'.

However I am not sure about the attribution. It is not the same as the Aldenham Purple stocked by Deacons, Godshill. The fruit from it is larger (not really a crab) and more vividly coloured.

It is possible there are several variants.

Stefan Dubbelman, Sweden, offers the following comments on the fruit from his own tree (which mine matches): 'quite sweet and good flavoured when fully ripe. There is another variant (darker colour but bitter taste) growing at a genome preserving orchard in Sweden'.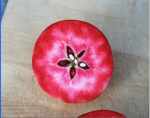 .....


Update, 2012 ...... first fruit from the tree (pictures below). Fully ripe 13 Sept. Notice the variability in fruit colour between sites - mine is not so dark as Stefan's - and probably from year to year. This is common with red fleshed varieties.

The fruit quality is good when ripe; quite sweet, a little like 'Merton Knave', but slightly more tart.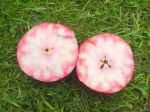 .....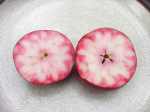 .....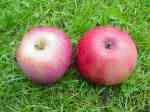 .....




compiled by Nigel Deacon / Diversity website