The Writers' Guild of Great Britain (WGGB) announced the winners for its awards across 16 categories in film, television, radio, theatre, comedy, books and videogames, at the ceremony which took place at the Royal College of Physicians in London on 13 Jan 2020. 
Hosted by writer, comedian and actor Katy Brand, the awards honoured the cream of British writing talent in front of an audience from a wide range of creative industries, and an array of guests including WGGB President Sandi Toksvig OBE, Samira Ahmed, Simon Beaufoy, Jonathan Harvey, Rufus Jones, Sally Lindsay, Lisa McGee, Nigel Plaskitt with Hartley Hare and Michael Spicer.
Katy said of the event 'I am thrilled to have hosted the WGGB Awards 2020 this evening, not least because it means I spent an evening with the best writers in the world without having to worry about winning anything myself.  I just enjoyed the immense throb of talent in the room, and hopefully helped make the evening entertaining, inclusive, and a celebration of all the outstanding work of the past year – congratulations to all the deserved brilliant winners.'
WGGB President Sandi Toksvig OBE said 'Congratulations to all the Writers' Guild Awards 2020 winners, it's a sheer joy just to be in a room amongst such wonderful writers. These ridiculously talented people have kept us entertained throughout the year with their brilliant writing, they have brought us much needed tonic during these challenging times, and we have been spoilt rotten by their wonderful creations!' During the ceremony former WGGB Chair Gail Renard and current Deputy Co-Chair William Gallagher paid tribute to Peter Nichols and Terrance Dicks, plus other WGGB members who had sadly died the previous year.
The two radio winners were as follows:
Best Drama: Forest 404 by Timothy Atack
Best Comedy: Prepper, by Caroline and James Moran

The full list of winners is shown below.
(....information supplied by Esther Beaumont; many thanks.)
The Authors' Licensing and Collecting Society (ALCS) is the lead sponsor of the 2020 Writers' Guild Awards. Other sponsors are the BBC, ITV, Company Pictures, Script Angel and Nick Hern Books.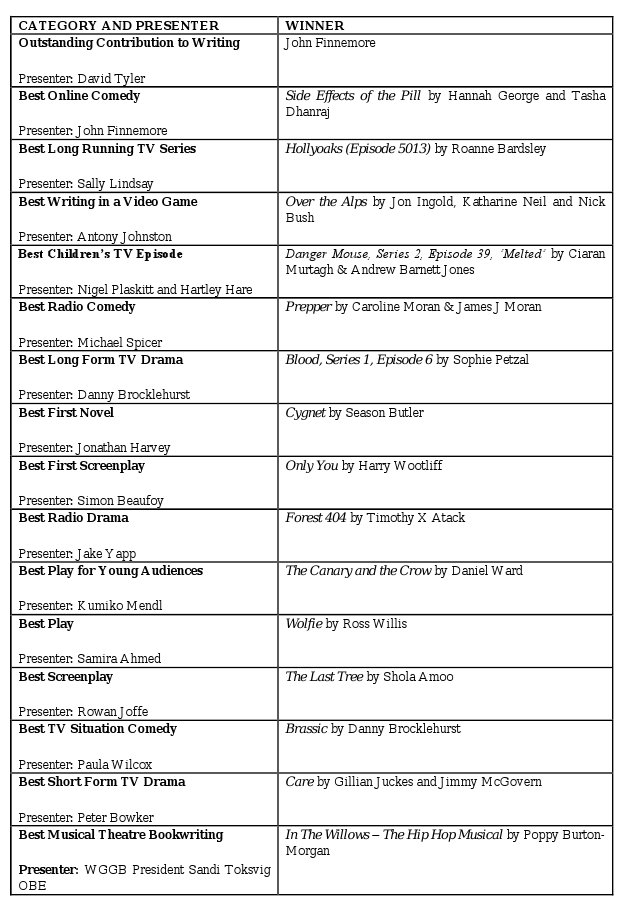 ---------------------------------------------------------------------------------

WRITERS' GUILD OF GREAT BRITAIN AWARDS 2020: SHORTLIST ANNOUNCED

The Writers' Guild of Great Britain (WGGB) has announced the shortlist for its annual awards, to be presented by writer, comedian and actor Katy Brand on Monday 13 January 2020 at the Royal College of Physicians in central London.

WGGB President Sandi Toksvig OBE said: "In such tumultuous times, when truth becomes ever stranger than fiction, we rely on writers to reflect, to inform, to distract, to entertain and to make meaning of it all. And what a lot of talent in this year's Writers' Guild Awards shortlist - from page, stage, screen and across the airwaves."

The shortlist in 15 categories follows. In addition, there is a special award for outstanding contribution to writing, presented at the ceremony.
Best Radio Drama Forest 404 (Timothy X Atack); Home Front: A Fragile Peace (Katie Hims); The Not Knowing (Dan Maier)
Best Radio Comedy The Hauntening (Tom Neenan); Madame Mayor (Brenda Gilhooly); Prepper (Caroline Moran and James J Moran)
Best Long Form TV Drama Blood, Series 1, Episode 6 (Sophie Petzal); Gentleman Jack (Sally Wainwright); Tin Star (Rowan Joffe)
Best Short Form TV Drama Brexit: The Uncivil War (James Graham); Care (Gillian Juckes and Jimmy McGovern); Mrs Wilson (Anna Symon)
Best Long Running TV Series EastEnders, Episode 5828 (Peter Mattessi); Holby City, Season 21, Episode 5, 'Mad As Hell' (Martin Jameson); Hollyoaks, Episode 5013 (Roanne Bardsley)
Best TV Situation Comedy Brassic (Danny Brocklehurst); Derry Girls (Lisa McGee); Home (Rufus Jones)
Best Children's TV Episode Danger Mouse, Series 2, Episode 39, 'Melted' (Ciaran Murtagh and Andrew Barnett Jones); The A List, Episode 6 (Dan Berlinka and Nina Metivier); The Worst Witch, 'Bad Magic' (Neil Jones)
Best Writing in a Video Game Heaven's Vault (Jon Ingold); Over the Alps (Jon Ingold, Katharine Neil and Nick Bush); Telling Lies (Sam Barlow and Amelia Gray)
Best Screenplay Beats (Kieran Hurley); Stan & Ollie (Jeff Pope); The Last Tree (Shola Amoo)
Best First Screenplay Only You (Harry Wootliff); The Fight (Jessica Hynes); VS. (Daniel Hayes and Ed Lilly)
Best Play Ali and Dahlia (Tariq Jordan); The Cane (Mark Ravenhill); Wolfie (Ross Willis)
Best Play for Young Audiences Like Water For Goldfish (Mike Kenny); Small Wonders (Nessah Muthy); The Canary and the Crow (Daniel Ward)
Best Musical Theatre Bookwriting Growl - The True Story of the Big Bad Wolf (Timothy Knapman); In The Willows - The Hip Hop Musical (Poppy Burton-Morgan); Unfortunate: The Untold Story of Ursula the Sea Witch (Robyn Grant and Daniel Foxx)
Best First Novel Cygnet (Season Butler); Finally Woken (Dean Moynihan); Something Like Breathing (Angela Readman)
Best Online Comedy Down From London (Graham Dickson and Liz Kingsman); Paper Trail (Ben Rufus Green); Side Effects of the Pill (Hannah George and Tasha Dhanraj)
Sponsors The Authors' Licensing and Collecting Society (ALCS) is the lead sponsor of the Writers' Guild Awards this year. Our other sponsors: BBC, ITV, Company Pictures, Script Angel and Nick Hern Books.
information supplied by Sarah Woodley, Writers' Guild - many thanks.
ND
PREVIOUS WINNERS OF THE RADIO DRAMA/COMEDY AWARDS:
Year refers to the broadcast date.
BEST RADIO DRAMA
2018 Stone, Episode 7, by Alex Ganley
2017 The Things We Never Said, by Ming Ho
2016 Fat Little Thing by Lucy Gannon
2015 Quill by Tony Jones
2014 A Night Visitor, by Stephanie Jacob
2013 Tennyson and Edison, by David Pownall
2012 Pandemic, by John Dryden (Indie, Goldhawk)
2011 Troll, by Ed Harris
BEST RADIO COMEDY
2018 Sarah Kendall: Australian Trilogy 'Seventy-Three Seconds' by Sarah Kendall
2017 Sarah Kendall: Australian Trilogy 'A Day In October' by Sarah Kendall
2016 Double Acts – Series 1, Episode 5, "English for Pony Lovers" by John Finnemore
2015 White Rolls The Dice, by Deborah Frances.
2014 The Brig Society, by Marcus Brigstocke
2013 Susan Calman Is Convicted, by Susan Calman
2012 I, Regress, by Matt Berry
2011 Cabin Pressure, by John Finnemore
---------------------------------------------------------