WINNERS
WRITERS' GUILD AWARDS
Winners Revealed At Event Celebrating The Best Of British Writing
18 January 2016:
Writer and producer Russell T Davies was presented with the Outstanding Contribution to Writing Award at the annual Writers' Guild of Great Britain Awards at RIBA in London.
The award was presented by Paul Abbott in honour of his body of work for TV including Queer as Folk, the revival of Doctor Who, and the recent drama trilogy; Cucumber, Banana and Tofu. Davies and Abbott are both members of the Writers' Guild of Great Britain (WGGB).
Davies said: "For me, this is the greatest of honours, coming from fellow writers, and I'm enormously grateful to the Writers' Guild - for this, and for the work it does for writers everywhere."
Comedian, actor and writer Susan Calman hosted the event in front of an audience drawn from a broad range of creative industries.
Other winners included Paul King who was awarded Best Screenplay for the film "Paddington"; Armando Iannucci's "Veep" won Best TV Situation Comedy; Timberlake Wertenbaker took home the award for Best Play for American Revolution drama "Jefferson's Garden"; Best Long Running TV Series went to Louise Ironside for Scottish soap "River City" and Best Writing in a Video Game was won by Dan Pinchbeck for the game "Everybody's Gone to the Rapture".
A special tribute was made to Writers' Guild member David Nobbs, who died on 8 August 2015 and was best known for writing the 1970s series The Fall and Rise of Reginald Perrin, adapted from his own novels. Novelist and writer Jonathan Coe gave a speech in his memory.
WGGB President Olivia Hetreed said "As President of the Writers' Guild of Great Britain, I am immensely proud of all our Award winners and nominees, a truly impressive display of talent, from the ancient art of playwriting to the youngest one of game writing. All our winners display not only a superb grasp of their craft but tremendous insight and empathy with the challenges of modern life.
"The Writers' Guild has been supporting writers for over 50 years, in their everyday working lives, in times of crisis and triumph. Writers today face many difficulties; we can meet them more strongly together."
The radio awards were presented by Gail Renard; the others by Caitlin Moran, Julia Hardy, Phil Ford, Charlie Hardwick, Jonathan Asser, Natalie Wilson, Helen Edmundsen, Moira Buffini, Helen Lederer, Warren Brown and Paul Abbott.

Writers' Guild Awards Winners:

Outstanding Contribution to Writing
Russell T Davies

Best Radio Comedy
Winner: White Rolls The Dice, by Deborah Frances.
Shortlisted: Ed Reardon's Week by Andrew Nickolds & Christopher Douglas, Boswell's Lives by Jon Canter

Best Radio Drama
Winner: Quill by Tony Jones
Shortlisted: Fragments by Laura Lomas, Orpheus & Eurydice by Linda Marshall Griffiths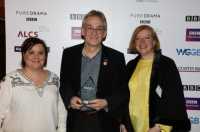 Best Long Running TV Series
Winner: River City, Series 13, Episode 8 by Louise Ironside
Shortlisted: Holby City, Series 17, Episode 50 "At First I was Afraid" by Julia Gilbert, Emmerdale, Episode 7188/89 by Maxine Alderton

Best Writing in a Video Game
Winner: Everybody's Gone to the Rapture by Dan Pinchbeck
Shortlisted: Her Story by Sam Barlow, Sunless Sea by Alexis Kennedy, Richard Cobbett, Amal El-Mohtar, Chris Gardiner, Meg Jayanth and Emily Short

Best Children's TV Episode
Winner: Eve – Final Episode: "Control, Alter, Delete" by Emma Reeves
Shortlisted: The Dumping Ground – Series 3, Episode 10 "Dragon Slayer" by Julie Dixon, Katie Morag and the Worst Day Ever by Sergio Casci

Best Long Form TV Drama
Winner: Not Safe for Work by DC Moore
Shortlisted: Banished by Jimmy McGovern, Wolf Hall by Peter Straughan

Best First Screenplay
Winner: X + Y by James Graham
Shortlisted: '71 by Gregory Burke, The Falling by Carol Morley

Best Play for Young Audiences
Winner: Three Wise Monkeys, Mike Kenny
Shortlisted: Bird by Laura Lomas, Muddy Choir by Jesse Briton

Best Play
Winner: Jefferson's Garden by Timberlake Wertenbaker
Shortlisted: Liberian Girl by Diana Nneka Atuona, Temple by Steve Waters

Best Screenplay
Winner: Paddington by Paul King
Shortlisted: Wild by Nick Hornby, Ex Machina by Alex Garland

Best TV Situation Comedy
Winner: Veep Season Four by Simon Blackwell, Jon Brown, Kevin Cecil, Roger Drew, Peter Fellows, Neil Gibbons, Rob Gibbons, Sean Gray, Callie Hersheway, Armando Iannucci, Sean Love, Ian Martin, Georgia Pritchett, David Quantick, Andy Riley, Tony Roche, Will Smith
Shortlisted: Catastrophe by Sharon Horgan and Rob Delaney, W1A by John Morton

Best Short Form TV Drama
Winner: Code of a Killer by Michael Crompton
Shortlisted: The Casual Vacancy by Sarah Phelps, The Gamechangers by James Wood.

...information sent by Amy Williams and used by permission; many thanks.








SHORTLIST

The Writers' Guild of Great Britain (WGGB) is pleased to announce the shortlist for its annual awards, to be presented on Monday 18 January 2016 at RIBA, central London.

High-profile writers from the worlds of TV, film, theatre, radio, books, poetry and videogames have been regulars at this annual, red-carpet event through its 50-year history.

The Writers' Guild Awards, which launched in 1961, also give professional writers from across Great Britain the opportunity to honour their peers, and celebrate the importance of writing to the creative industries, both nationally and abroad.  

A special award for outstanding contribution to writing is presented every year.

Our sponsors this year are: ALCS, BBC Drama, BBC Writersroom, Big Talk, Company Pictures, ITV Studios, Curtis Brown Ltd.

The shortlists, in 12 categories (I've put the radio awards at the top, as usual):


Best Radio Drama
Fragments (Laura Lomas), Orpheus & Eurydice (Linda Marshall Griffiths), Quill (Tony Jones)

Best Radio Comedy
White Rolls The Dice (Deborah Frances), Ed Reardon's Week (Andrew Nickolds and Christopher Douglas), Boswell's Lives (Jon Canter)

Best Long Form TV Drama
Banished (Jimmy McGovern), Not Safe for Work (DC Moore), Wolf Hall (Peter Straughan)

Best Short Form TV Drama
Code of a Killer (Michael Crompton), The Casual Vacancy (Sarah Phelps), The Gamechangers (James Wood)

Best Long Running TV Series
Holby City, Series 17, Episode 50 "At First I was Afraid" (Julia Gilbert), River City (Louise Ironside), Emmerdale, Episode 7188/89 (Maxine Alderton)

Best TV Situation Comedy
Veep Season Four (Armando Iannucci, Tony Roche, Simon Blackwell, Sean Gray, Ian Martin, Jesse Armstrong, William Smith, Roger Drew), Catastrophe (Sharon Horgan and Rob Delaney), W1A (John Morton)

Best Children's TV Episode
The Dumping Ground, Series 3, Episode 10 "Dragon Slayer" (Julie Dixon), Eve, Finale Episode: "Control, Alter, Delete" (Emma Reeves), Katie Morag and the Worst Day Ever (Sergio Casci)

Best Writing in a Video Game
Everybody's Gone to the Rapture (Dan Pinchbeck), Her Story (Sam Barlow), Sunless Sea (Alexis Kennedy, Richard Cobbett, Amal El-Mohtar, Chris Gardiner, Meg Jayanth and Emily Short)

Best Screenplay
Wild (Nick Hornby), Paddington (Paul King), Ex Machina (Alex Garland)

Best First Screenplay
'71 (Gregory Burke), The Falling (Carol Morley), X + Y (James Graham)

Best Play
Jefferson's Garden (Timberlake Wertenbaker), Liberian Girl (Diana Nneka Atuona), Temple (Steve Waters)

Best Play for Young Audiences
Bird (Laura Lomas), Muddy Choir (Jesse Briton), Three Wise Monkeys (Mike Kenny).

information supplied by Sarah Woodley, Writers' Guild - many thanks.


ND
PREVIOUS WINNERS OF THE RADIO DRAMA/COMEDY AWARDS:
BEST RADIO DRAMA
2014 A Night Visitor, by Stephanie Jacob
2013 Tennyson and Edison, by David Pownall
2012 Pandemic, by John Dryden (Indie, Goldhawk)
2011 Troll, by Ed Harris
BEST RADIO COMEDY
2014 The Brig Society, by Marcus Brigstocke
2013 Susan Calman Is Convicted, by Susan Calman
2012 I, Regress, by Matt Berry
2011 Cabin Pressure, by John Finnemore
---------------------------------------------------------